Description
For years we've worked on developing the perfect men's tee. We made ours as soft as possible, with a bit of stretch, so it fits just right. If you printing shirts for yourself, your staff, or your clients, this will be a t-shirt that gets worn over an over again.
Here are the specs, all measurements are in inches
Length | Width
S - 23" | 18"
M - 25" | 20.5"
L - 26.5" | 22.5"
XL - 27" | 24.5"
2XL- 28" | 26.5"
We always have great stock in Black and White tees, but other colours sometimes need to be ordered in. Please take a moment to call us to check stock if you are coming in for a 5-minute custom t-shirt or same day order. Looking for a colour you don't see hear, we can get it. Please call us to inquire.
Available Colors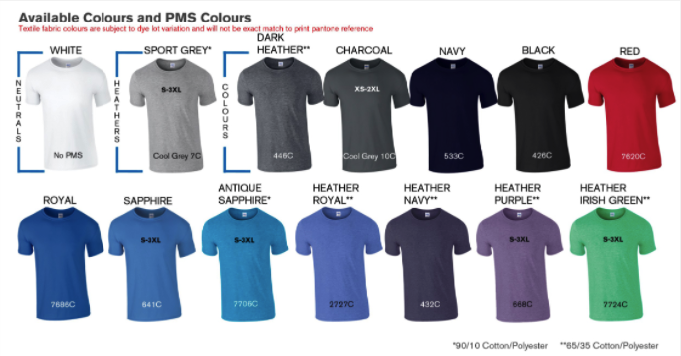 Pricing
(click Get a Quote for a custom price quote)
| Quantity | Price/ea. |
| --- | --- |
| One Custom T-shirt | $38 |
| 4+ Custom T-shirt | $33 |
| 10+ Custom T-shirt | $28.90 |
| 25+ Custom T-shirt | $18.90 |
| 50+ Custom T-shirt | $13.90 |
| Additional | Price/ea. |
| --- | --- |
| Multi Colour | +$10 ea. |
| Sleeve Printing | from $1.95 ea. to $7.95 ea. |
| Back Printing | from $1.95 ea. to $9 ea. |
| Multi Colour Back | +$10 ea. |
| Art Work Fees | $5 for text/$10 for graphics |
| Setup Fees | $45 for 25+ items |